By Murdock……30 May 2018
Every year Memorial Day, thousands of of rockers descend to Pryor,  Oklahoma, a city of about 30K in northeast Oklahoma. Not much up here to capture your attention beside the Oklahoma heat and the ever present threat of nasty twister bearing weather.  After a few years of self imposed hiatus, StumbleEast decided to get back to its roots…..well, on half of our roots anyway….so we took in a Saturday in the "unwashed" section of the venue.  Ah, that would be the GA area for you confused puppies reading this. For the first time in three years, it did not rain, nobody drowned in a flood, the reborn second stage did not come crashing down (ok, that was several years back in a microburst, but you get the idea). Nope.  Just three days of hot clear sun drenched sweaty skin listening to great hard rock. Here is a wrap up of the main Saturday stage:
Shamans Harvest. These Missouri natives started the main stage off with a hot sweaty set of blues rock. The lead singer looked like he would face plant at any time due to heat stroke, but all in all, strong vocals and straight forward blues rock.  Very enjoyable.
Pop Evil. One of the reasons for my going this year. This is the third time I have seen them.  However, I was disappointed with their time slot to play, and the fact that in their uber shorted set because of time slot, they left off the table two of their best songs..Monster In Me and Torn To Pieces.. So strike one for the festival on their placement. Their airplay and string of hit songs provide a CV that is far too strong to leave them playing a 30 minute set.  AXE entertainment must of been choking back a big ole chubby when they were making Sat. Line up.  Otherwise, the Pop Evil show was strong overall, although Lee did not hit the high notes often.
Clutch. What an odd bunch this is. Middle aged guys who looked like they scrounged for a kitchen pass from the old ball and chain to come out an play a night. Virtually no recognizable songs from radio airplay. But……these guys bring it.  Blues and alt based rock with some lyrics that will burn a hole through your skull. No pretense here. No spending countless minutes trying to get a lathargic audience to scream. Little talk.  Just get out there and play, and they are tight.  All the original members since they formed in 1991 in Fredericksburg MA…..they play with that familiarity.  One of the new songs of upcoming LP, great political biting lyrics……loved it.
Vince Neil. Unapologetic Motley Crue show. Yes, Vince was sporting about another 40 lbs of beer and pizza since I last saw him live, and yes a bit older, but a show was to be had here. Neil simply blew everyone prior off the stage.  His voice was top notch, no dropping an octave lower as a lot of these old shits do…he simply brung it.  Sporting a great band behind him, including a drummer who is clearly attempting Tommy's Lee like eccentricities, he was a great beat master with a show of his own. Also notable was the cover of Ronnie James Dio's Heaven and Hell sung and played by the guitarist…great great show.
Ghost B.C. I was extremely interested to see Ghost once again, especially in the middle of a state that is so Bible Belt and generally intolerant of any other beliefs….you see Ghost's whole shtick is Satanic based…..the songs are this way, their theatrical dress and band scripted lines are this way,  and play their music in this way.  In reality, Ghost is really the project of Tobias Forge, who is the lead singer since 2008. He plays characters on stage, which used to be Papa Ermeritus', and now Cardinal Cornocopia. The musicians, simply referred to as Nameless Ghouls, are hired to play.  But they are good, tight, and for those of you who prefer concert sounds to be like the recording, these guys are spot on. The band was well received, but it was a total different feel than the bands playing before or after them, but good for Rocklahoma for taking the chance to have Ghost, while some could not relate to the songs, I think all would agree the stage show was superior and that the musicianship was tight and professional, and since their songs are well produced in the recording studio, and their stage performance matches the recording, it makes for a great concert experience.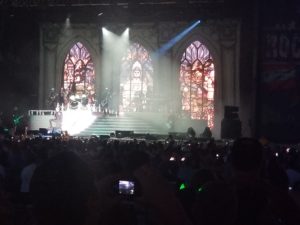 Godsmack. The Bostonians are back in a big way. Sully Erna was spot on, a whiskey swirling man on a mission to breakout after a long disappearance from the mainstream.  Also of note is the new music…..a current song that just topped the charts and another they played which I believe will follow suit. Of course all of the regulars….the songs that put them on the map were played excellently.  Sully was talkative. He was old school at a once point chiding the venue for having seats in the VIP area……good on him.  I agree.  It was a great show and you would not be wasting your coin on seeing this group…Unapologetically East Coast, unapologetic hard rock
Side Stages. The format of Rocklahoma is that each stage rotates bands, with the more popular bands on the main stage and up and coming bands on stage 2, the River Spirit stage, and those trying to break out on side stage 3.  There were some popular bands on the River Spirit stage, Under Oath, Powerman 5000, etc., but the band that stole StumbleEast's vote for the best was a group from Springfield MO. Called T.R.O.Y. Great song writing, great sound and stage presence…..I wanted to shout out to them, as we believe they have a future…..may want to think about that name though……..